A concept locally, strong online together
Uw complete en onderhoudsvrije Webshop, die met uw omzet meegroeit
The local hero makes the difference

Through Local Florist will you find a florist nearby that suits the best. Order easy online and be sure that you'll receive a unique bunch of flowers which is created by a real artist.
Find your local florist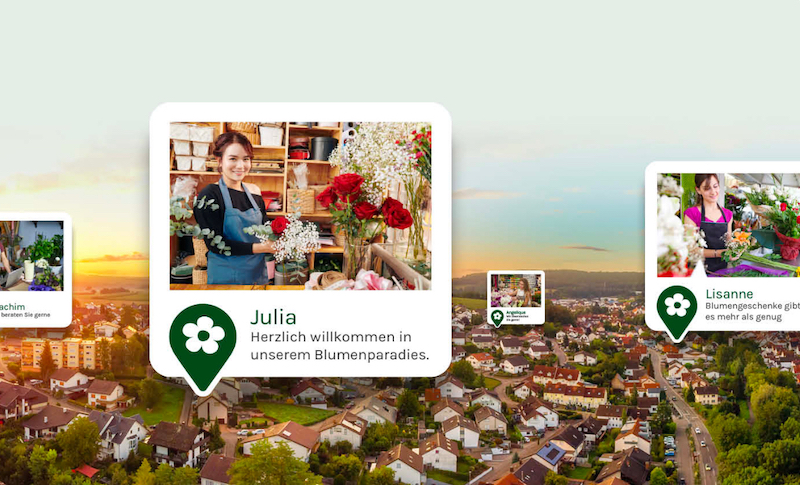 Simply send flowers from a local florist

Many local florists have created a page on Lokaler Florist so that you can order a beautiful bouquet online too. It works almost the same as it does in the store. Home delivery in just 3 steps!
More about LokalerFlorist
Your web shop can be reached any time

Now that you can also be reached online, you will never miss an order again. Customers can order a bouquet from you 24/7 and will be automatically informed of the status. The orders are clearly arranged and can be processed very easily if the time suits you.
Learn more (for florists)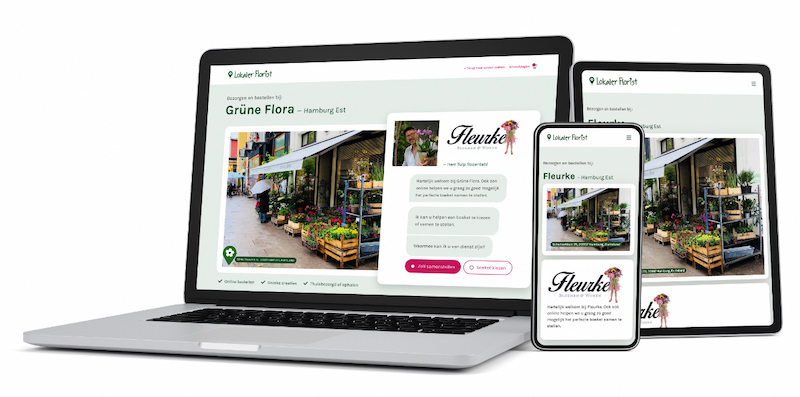 Hét online platform voor de vakbloemist
Een platform waar klant en bloemist elkaar ontmoeten. Een platform waar je als klant lokaal een bloemencreatie direct bij de lokale bloemist in zijn eigen webshop kan bestellen voor elke gelegenheid. Een individueel samengestelde creatie op basis van jouw wensen. Persoonlijk gemaakt en bezorgt door de bloemist. Alle ingrediënten om met een prachtig boeket of arrangement voor de dag te komen. Bloemenpracht die emotie verwoordt!
Onze droom: "Dat elke consument eenvoudig direct online een creatie (lees boeket) kan bestellen direct bij iedere lokale bloemist."
Waarom Lokaler Florist?
De bloemist verkoopt een creatie die jouw emotie verbeeld of versterkt. Een unieke bloemencreatie om te zeggen "ik hou van je", "het spijt me", "ik leef met je mee", "dankjewel", "beterschap" of .... De bloemist kan dat als geen ander omzetten in een passend boeket of arrangement. Herkenbaar en persoonlijk. Wij zijn van mening dat de plaatselijk bloemist hiervoor het beste startpunt is. Allereerst vanuit de fysieke winkel en aanvullend daaraan ook online. We willen de consument in de gelegenheid stellen om op ieder gewenst moment gebruik te kunnen maken van de diensten en producten van de lokale bloemist. Eenvoudige 24/7 online bestellen, met ruimte voor individuele wensen en de creativiteit en stijl van de lokale vak-bloemist.
De bloemist verkoopt emotie: "Een unieke bloemencreatie om te zeggen "ik hou van je", "het spijt me", "ik leef met je mee", "dankjewel" of "beterschap"."
De winkel van de bloemist is de plek om de bloemenpracht te aanschouwen, de geur op te snuiven en het vakmanschap te ervaren. De online shop van de bloemist moet daarvan een logisch verlengstuk zijn, waardoor de toegankelijkheid wordt verbeterd, maar vooral ook een directe transactie tussen consument en bloemist moet plaatshebben, zonder tussenkomst van derde partijen.
De bloemisten die bij ons zijn aangesloten zijn allemaal unieke vakmensen, lokaal bekende merken met hun eigen stijl en werkwijze. Is in uw regio geen aangesloten bloemist? Dan zoeken wij een plaatselijke bloemist die uw order persoonlijk uitlevert. Zo bieden we onze diensten Bundesweit aan!
Win-Win!
Een online platform waar je als consument een lokale bloemist kunt zoeken en direct kunt bestellen in de eigen online-shop van de bloemist. Hiermee ondersteund u lokaal ondernemerschap én krijgt u meer waar voor uw geld!
Lokaler Florist
Für Floristen